Seminar:
Africans in Asia 1500-1900

Clifford J Pereira FRGS
Independent Researcher, Curator and Museum Consultant.
1 Nov, 2017 (Wed) 4:30pm-6:00pm
Room 4.36, Run Run Shaw Tower, Centennial Campus, HKU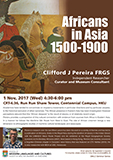 Academics have tended to concentrate on migratory movements in particular directions and by particular peoples, to the historical exclusion of other narratives. The African presence in Eastern Asia has been investigated. However perceptions abound that this "African diaspora" is the result of slavery or of relatively recent origin. Pereira provides a perspective of this cultural connection with evidence from sources from Africa to Eastern Asia. In a manner he follows the Maritime Silk Route from West to East. The role of African crewmen brings a new dimension to ethnographic studies of maritime cultural landscapes and seascapes.

Pereira's research over the last fifteen years has been focused on a variety of themes and has led to a publication on Africans, Arabs in the Royal Navy during the abolition of slavery in the Indian Ocean with the UNESCO Slave Route Project and An exhibition at the Royal Geographical Society (London) on the Bombay Africans (2007). Now based in Hong Kong, Pereira has recently uncovered a forgotten Chinese chapter in Canada's naval history that was featured on CTV Halifax (2015). He is also researcher with MOA at UBC, Vancouver.